Towbin Direct
Take Control Of Your Buying Experience With Towbin Direct!

Towbin Direct is our all-new, online digital commerce interface that puts you, the customer, in complete control of your car buying experience.
No matter if you are at home, in the office, on the road, or even in one of our dealerships, Towbin Direct turns the sometimes complex car buying process into a fast and easy digital transaction that will forever change the way you feel about buying a car.
Not ready to completely buy online but just want to get a head-start on securing financing? Appraising your trade-in? Configuring payments, etc.? No problem. We've built Towbin Direct where you can take care of one, some or all of these steps in the car buying process completely online, saving you hours at the dealership.
Once you've completed any of these steps, Towbin Direct then saves your information so we can pick up where you left off when you come into one of our showrooms. Want to fully complete your purchase online? Towbin Direct can do it all and we'll then deliver your new or used vehicle direct to your door.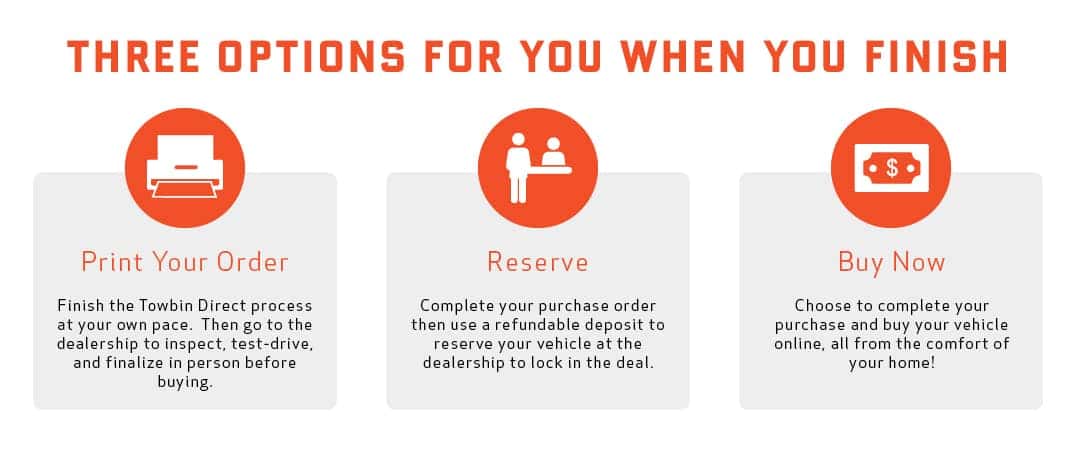 Towbin Direct: the newest, and easiest, way to buy a vehicle in Southern Nevada. Start now by choosing a vehicle that's right for you.